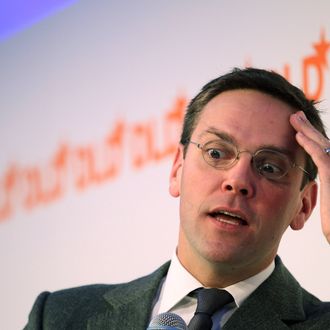 Photo: Miguel Villagran/Getty Images
Two weeks after stepping down as chairman of News International and one day after still more News Corporation arrests, including Rebekah Brooks for the second time, James Murdoch has written "a lengthy letter" about phone hacking to Parliament. The statement, his second to the committee investigating the routine hacking at the Murdoch tabloids, reportedly includes both apologies for the scandal and explanations about his own innocence, and therefore ignorance — in other words, the same refrain he's been spouting for months. This time, though, it's especially important because the committee plans to complete its report by the end of the month, and James's position in his father's company could be in jeopardy.
The Financial Times reports:
If the report challenges Mr Murdoch's version of events or criticises his handling of News International, the UK arm of his father's News Corp media group, the independent directors at Murdoch-controlled BSkyB could feel obliged to ask him to step down.

In his letter, Mr Murdoch accepts responsibility for not uncovering wrongdoing at NI earlier and he makes a personal apology to those who have had their privacy invaded.

He also reiterates that he did not mislead parliament and explains his decision to step down as News International chairman last month to focus on pay-TV.
The committee plans to post the entire letter online today, but it's likely we've heard it all before.