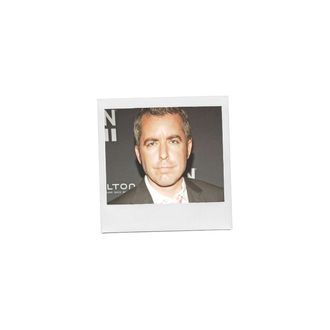 Photo: Liam McMullan/Patrick McMullan
Name: Jason Jones
Age: 38
Neighborhood: Upper West Side (only because I have kids)
Occupation: Writer, comedian, Daily Show correspondent, and spokesperson for Edge Shave Gel's new Edge Men campaign, where he "endows men in need of an edge with cash prizes via social media" (@EdgeShaveZone; #wellendowed).
Who's your favorite New Yorker, living or dead, real or fictional?
Tim Tebow.
What's the best meal you've eaten in New York?
Tough call. Per Se was transcendent for me, but for $293 less, I once had this hot dog that was pretty awesome.
In one sentence, what do you actually do all day in your job?
I ironically agree with conservative ideologues.
What was your first job in New York?
I played a psychiatrist on a soap opera. The one where all the guys had mustaches.
What's the last thing you saw on Broadway?
Death of a Salesman — I loved the part when Truman Capote yelled at Spider-man.
Do you give money to panhandlers?
Only if they're aggressive.
What's your drink?
I'm a hoppy micro-beer kind of guy but if I really want to vomit the next morning, bourbon.
How often do you prepare your own meals?
Never. I'm surrounded by incredible restaurants and a wife.
What's your favorite medication?
The only thing I get high on is love from my family. And bath salts.
What's hanging above your sofa?
Sadly, we don't have a wall to push our sofa up against. It's sort of free floating, used mostly as a fort.
How much is too much to spend on a haircut?
I asked my wife and her face turned a ghostly shade of white which tells me I should go through her receipts.
When's bedtime?
When the coffee runs out.
Which do you prefer, the old Times Square or the new Times Square?
I wasn't here for the old Times Square, but from what I hear it was a great place to get stabbed. So, I'm going to go with the old Times Square. Take that, Disney!
What do you think of Donald Trump?
I know the world likes to dump on Trump but I have to be honest, Trump Ice was very refreshing. And classy.
What do you hate most about living in New York?
That big park in the center. Why can't there be condos I can't afford in there?
Who is your mortal enemy?
Brazilian women. They know why.
When's the last time you drove a car?
Sunday. That's just when I drive.
How has the Wall Street crash affected you?
I was forced to sit through Wall Street 2: Money Never Sleeps on a plane not once, but twice.
Times, Post, or Daily News?
Most of 'em. All of 'em. Any of 'em that have been in front of me all these years. I have a great appreciation for the press, you know, the media.
Where do you go to be alone?
I live in less than 1,000 square feet with three kids on the UWS of Manhattan. What's this alone you speak of?
What makes someone a New Yorker?
Ten years of battling, scuttling, elbowing, clawing, and waiting "on line" not "in line"!