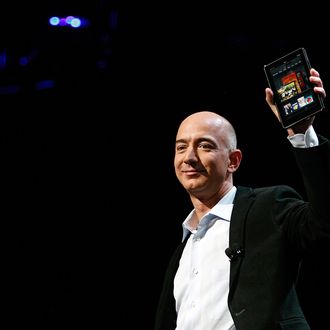 Photo: Emile Wamsteker/Bloomberg via Getty Images
In the week's second major piece of rich-man-and-the-sea news, Jeff Bezos announced that he has located the F-1 engines that powered the Apollo 11, which have been at the bottom of the Atlantic Ocean since the spacecraft's 1969 takeoff. Or, rather, a team of scientists using state-of-the-art sonar technology paid for by Bezos has located the engines and is now planning to dredge them up to the surface (they're about 14,000 feet below right now). On his blog, the Amazon founder explained that the project was inspired by his memory of watching the rocket launch on TV:
I was five years old when I watched Apollo 11 unfold on television, and without any doubt it was a big contributor to my passions for science, engineering, and exploration … NASA is one of the few institutions I know that can inspire 5-year-olds. It sure inspired me, and with this endeavor, maybe we can inspire a few more youth to invent and explore.
As Bezos also notes, the engines remain property of NASA. But, based on the post, it doesn't seem that he intends to literally buy a piece of his childhood dream. Instead, he'll be asking the agency to put the machinery on display at the Smithsonian or the Seattle's Museum of Flight.