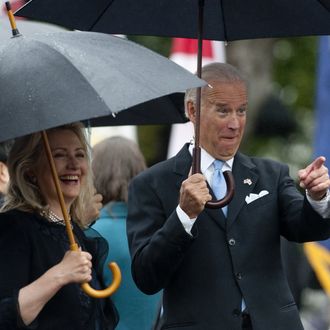 Are you ready?
Photo: SAUL LOEB/2011 AFP
Yesterday, Kirsten Gillibrand floated that she will implore Hillary Clinton to run for president. Perhaps not coincidentally, Politico has a story today noting that Joe Biden could also run for that very same office in that very same year. The story points out that, while Biden will be 73 in 2016, Hillary Clinton will be 69. And Biden is "campaigning with a young man's tenacity in 2012 — with an eye toward keeping all of his options open."
There is a certain appeal to Biden and his famous inability to stay on message. If you like Mitt Romney's traditional post-primary Wednesday gaffes, why not just have them every day?