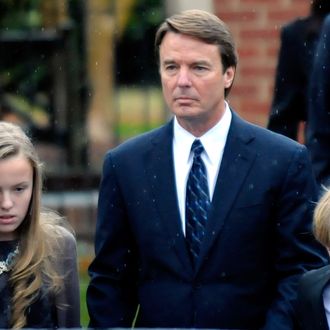 Photo: Sara D. Davis/2010 Getty Images
This morning came the news that a prostitute employed by alleged Manhattan madam Anna Gristina told investigators in 2008 that John Edwards was a one-time client. This afternoon, the former U.S. Senator and presidential candidate's lawyer said, "Mr. Edwards categorically denies that he was involved with any prostitute or service," triggering an intense sense of déjà vu worldwide. It just sounded so familiar!
October 13, 2007: "John Edwards denies affair with campaign worker"
"The story is false. It's completely untrue, ridiculous," said Edwards. "I've been in love with the same woman for 30-plus years, and as anybody who's been around us knows, she's an extraordinary human being, warm, loving, beautiful, sexy, and as good a person as I have ever known. So the story's just false."
The Truth: "Two years ago I made a very serious mistake, a mistake that I am responsible for and no one else," Edwards admitted. "In 2006, I told Elizabeth about the mistake, asked her for her forgiveness, asked God for his forgiveness. And we have kept this within our family since that time."
August 9, 2008: "John Edwards Admits to Affair, Denies He's Father of Lover's Child"
The Truth: "I will do everything in my power to provide her with the love and support she deserves," Edwards admitted. "It was wrong for me ever to deny she was my daughter and hopefully one day, when she understands, she will forgive me. To all those I have disappointed and hurt, these words will never be enough, but I am truly sorry."
February 10, 2010: "John Edwards Denies Proposing to Rielle Hunter"
"It's absolutely not true," said a spokesperson. "Everybody is trying to move on with their lives."
The Truth: Edwards remains unmarried, as far as we know.
May 21, 2010: "John Edwards' Lawyer Denies Plea Deal in the Works"
"The National Enquirer's assertion that we are in plea discussions is false," said a lawyer.
June 3, 2011: "John Edwards denies federal charges"
"I will regret for the rest of my life the pain and the harm that I have caused to others. But I did not break the law, and I never, ever thought I was breaking the law. Thank you all very much."
The Truth: His trial is set to begin next month.