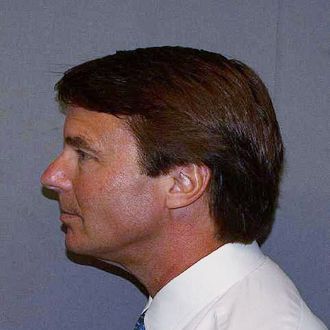 A separate offense.
Photo: U.S. Marshals Service
It's almost too obvious: After weeks of media teasing about the big-name clients connected to accused Manhattan madam Anna Gristina, the first to actually surface is known Lothario John Edwards. According to DNA Info's Murray Weiss, a prostitute working for Gristina told investigators in 2008 about her appointment the year prior with the now-disgraced but then-super-promising presidential candidate. "Most of the women don't have any idea about the identities of the men they sleep with. How would they know a money man from Wall Street or the face of a lawyer or banker who shows up?" a source told DNA Info. "But the face of the national politician? She knew." And just like that, this once fading story has tabloid juice again.
Edwards allegedly had a single transaction with the woman in an Upper East Side hotel while he was in New York City fund-raising for his presidential campaign. The five-year probe into what authorities say was Gristina's multi-million-dollar business had already begun, but then, the onetime U.S. senator's reputation was still as the squeaky-clean husband to a wife with terminal cancer. DNA Info reports, "Investigators were shocked at the allegation because Edwards was then considered the All-American persona." Edwards wasn't charged because the men in these cases almost never are.
Now he's a punch line, of course, having admitted to cheating and fathering a child with his mistress while still facing federal charges in North Carolina for using campaign donations to cover it up. In light of all that, the Gristina ties can't really damage his reputation more, but the story does indicate that big talk about the madam's clientele wasn't all hot air.
Back in the halcyon days, while in town campaigning, Edwards favored the Upper East Side's Loews Hotels Regency on Park Avenue. It happens to be the same place he met Rielle Hunter, the woman who would go on to star in his sex tape and ruin his political career. If these latest accusations are true, that last part would have happened anyway.
Update: "Mr. Edwards categorically denies that he was involved with any prostitute or service," said a lawyer for Edwards. He would never lie to us, right?