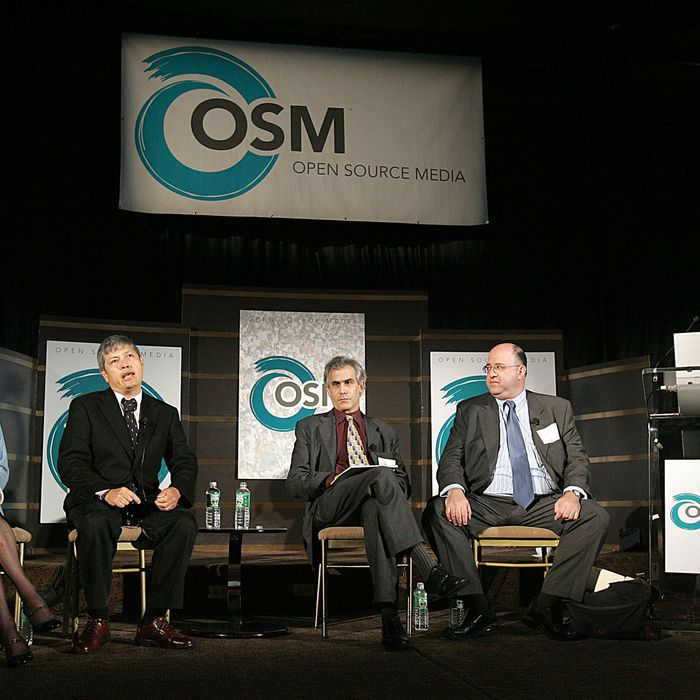 We are all in your debt, John Podhoretz.
Photo: Handout/2005 Open Source Media
John Podhoretz, the editor of Commentary and New York Post columnist, writes today that the term "Not Romneys," to apply to the Republican candidates who are not Mitt Romney, is one he "invented in a Post column last October." Upon reading this, I immediately became filled with shame. The innovation of referring to the Republican candidates who are not Romney as "Not-Romney" is certainly a clever, not to say brilliant, linguistic contribution. No doubt Podhoretz had noticed that many of us had been repeating his phrase and was reclaiming the credit that had been denied him. Had we all been stealing his accomplishment, or (to put it in less accusatory terms) standing on the shoulders of a literary giant without bothering even to glance beneath our feet?
Podhoretz coined this memorable phrase in an October 14 Post column. But a quick Nexis search reveals that sayaythingblog beat him to it by a day ("Cain is the not-Romney of the moment"). Also, the blog Liberal Values had it the day before that ("it is possible that it will be left to the Republican convention to choose the not-Romney candidate"). Also, the same day, New Hampshire Republican Fergus Cullen employed the phrase in an NPR interview ("somebody will end up consolidating the not-Romney vote").
And then, moving backwards in time, it was used by Robert Lane Greene of the Economist, Slate's John Dickerson, Joe Gandelman of the Moderate Voice, Karl Rove in an interview with Fox News anchor Greta Van Susteren, Gandelman again, Fox News's Bret Baier, Business Insider scribe Chris Weigant, John Hayward of Human Events, Rove in an opinion piece for The Wall Street Journal, Talking Points Memo, Gerri Willis on Fox Business, Edward Morrissey for CNN.com, Sean Hannity, Todd Harris in an appearance on Hardball With Chris Matthews, Rove again, Candy Crowley on CNN, Weigant again, columnist George Will, Weigant once more, Crowley again, Robert Schlesinger in US News & World Report, James Barnes and Peter Bell of National Journal's Hotline on Call, Washington Post columnist Jennifer Rubin, and Dan Nowicki of the Arizona Republic.
The first use that appears in Nexis comes from Dave Weigel of Slate, who wrote of Tim Pawlenty on May 6, 2011, "He had to become a credible not-Romney candidate." It's possible that somebody else published it first, but that usage has escaped the limited scope of my search.
So actually the question here is not whether Podhoretz invented the "not-Romney" phrase, but whether he is in fact the last person employed in the field of political commentary to use it. It's also worth pondering why, of the dozens of other pundits who typed out this phrase on or before October 14, 2011, only Podhoretz seems to have claimed to have invented it.