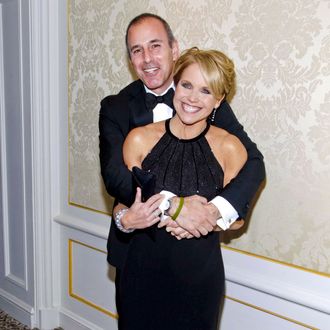 Photo: Photographer: Will Ragozzino/Will Ragozzino
For fifteen years ending in 2006, Katie Couric hosted NBC's Today, and she hasn't headed a morning show since. But when she makes her grand return next week, it will be on Today's rival, Good Morning America, ABC's longtime morning show runner-up, which just happens to be gaining in the ratings. After her stints at NBC and CBS, Couric is now flaunting her renewed loyalty to ABC, where she started her career.
Couric will be filling in for Robin Roberts alongside George Stephanopoulos and the rest of the crew, going up directly against her former co-host Matt Lauer and his current (embattled) partner Ann Curry. Lauer, as reported in this week's New York, is a free agent at the end of the year and proves more valuable to NBC News than ever, as "Good Morning America has closed the gap with Today to within a few hundred thousand viewers on some mornings (and some mornings pulls ahead, as it did on March 19)."
Couric, whose own syndicated talk show debuts on ABC in the fall, is just stopping by to spice things up. Maybe Matt can join Hoda and Kathie Lee for a drink.
Related: The News at NBC [NYM]