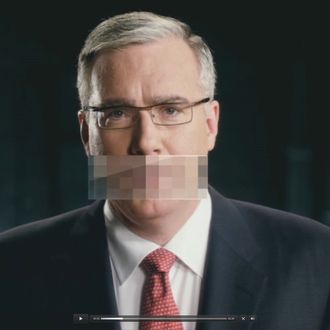 After a brief, rocky marriage, Current TV has reportedly ended its relationship with Keith Olbermann. As if that's not juicy enough on its own, Olbermann replacement is none other than disgraced former New York governor and failed CNN host Eliot Spitzer, whose new show Viewpoint will get Olbermann's spot, according to the New York Times. Spitzer's first show will be tonight.
Politico has the full memo from Current, signed by founders Al Gore and Joel Hyatt, which reads in part:
Current was also founded on the values of respect, openness, collegiality, and loyalty to our viewers. Unfortunately these values are no longer reflected in our relationship with Keith Olbermann and we have ended it.

We are moving ahead by honoring Current's values. Current has a fundamental obligation to deliver news programming with a progressive perspective that our viewers can count on being available daily — especially now, during the presidential election campaign.  Current exists because our audience desires the kind of perspective, insight and commentary that is not easily found elsewhere in this time of big media consolidation.
In late January, Spitzer subbed for Olbermann on Countdown, when the regular host reportedly had bronchitis. "It's possible Current TV is testing the waters with the former Governor," TV Newser reported at the time; who knew it was for Olbermann's job specifically? Current's statement calls Spitzer "a veteran public servant and an astute observer of the issues of the day." Spitzer's previous stint as a television host on CNN didn't last long, as Parker/Spitzer quickly became In the Arena and soon after, was cancelled altogether.
Olbermann started his run on Current last June, and in character, included some shots at his previous employer, MSNBC, in his very first broadcast. Not long after, Olbermann ditched the relatively new network by reportedly refusing to cover the Iowa caucuses, "apparently out of frustration about technical difficulties that have plagued his 8 p.m. program." Olbermann countered those reports by claiming, "I was not given a legitimate opportunity to host under acceptable conditions."
Olbermann returned to the station for the New Hampshire primary, but the reconciliation has proven to be brief — he's never been known as easy to work with, dating back to his contentious years at ESPN. As a Current executive said upon the first feud, "This is Keith being Keith." Surely we'll get his side of things soon.
Update: Indeed, Olbermann has a statement, which he decided to put out 140 characters at a time on Twitter. (Someone get this guy a blog.) He's threatening legal action against Current:
I'd like to apologize to my viewers and my staff for the failure of Current TV. Editorially, Countdown had never been better. But for more than a year I have been imploring @AlGore and @JoelHyatt to resolve our issues internally, while I've been not publicizing my complaints, and keeping the show alive for the sake of its loyal viewers and even more loyal staff. Nevertheless, Mr. Gore and Mr. Hyatt, instead of abiding by their promises and obligations and investing in a quality news program, finally thought it was more economical to try to get out of my contract. It goes almost without saying that the claims against me in Current's statement are untrue and will be proved so in the legal actions I will be filing against them presently. To understand Mr. Hyatt's "values of respect, openness, collegiality and loyalty," I encourage you to read of a previous occasion Mr. Hyatt found himself in court for having unjustly fired an employee. That employee's name was Clarence B. Cain. In due course, the truth of the ethics of Mr. Gore and Mr. Hyatt will come out. For now, it is important only to again acknowledge that joining them was a sincere and well-intentioned gesture on my part, but in retrospect a foolish one. That lack of judgment is mine and mine alone, and I apologize again for it.
This post has been updated throughout.