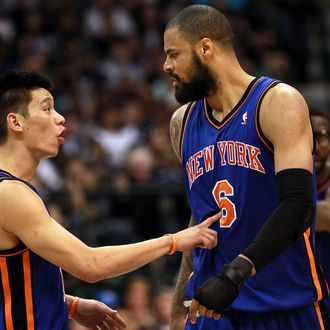 Photo: Ronald Martinez/2012 Getty Images
Jeremy Lin may have helped end the stalemate between Time Warner Cable and Madison Square Garden Network over royalties, but TWC customers will never be able to get back those magical two weeks in February when Lin ruled the world. So, naturally, they're suing. A class action demands $5 million in service fees and charges from Time Warner for withholding MSG and MSG+ networks for 49 days. When the Knicks returned, remember, their seven-game winning streak came to an end.
Via the Hollywood Reporter:
The named plaintiff in this lawsuit is Harold Hoffman, who says he was induced on the phone by a TWC representative to sign up in 2008 for service with the promise he would receive programming on the MSG and MSG+ networks.

Hoffman says he had little choice if he wanted to see televised games featuring the Knicks, Rangers, Islanders and Devils. No other cable service was available for his Englewood, New Jersey residence, and because he didn't own his property, he wasn't empowered to consent to the placement of a DirecTV satellite antenna on the property.

So he signed up for TWC, and when the games were taken off the air for 49 days beginning at the beginning of this year, he couldn't deduct from his billing statement the component of charges allowable to MSG and MSG+.
THR notes that there have been similar lawsuits in the past, but "none has been successful."
Meanwhile, Madison Square Garden chairman Jim Dolan, who's also the CEO of TWC rival Cablevision, is in the news for more than the Knicks' coaching change. The Post reported that "at least three more senior executives are headed for the exits" at Cablevision, and shares are down 40 percent in the last twelve months, "spurring speculation — once again — that he's planning to sell or take the Bethpage, LI, company private." Time Warner is listed as a potential buyer, but Knicks fans have other things on their mind at this point. Mid-February seems like forever ago.