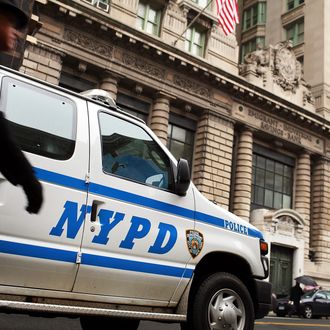 Photo: Spencer Platt/2012 Getty Images
The NYPD's surveillance of Muslims across the tri-state area has a new, unlikely critic in the head of the Newark FBI, who says it's making his job harder. This particular complaint has nothing to do with civil liberties:
>
"What we're seeing now with the uproar that is occurring in New Jersey is that we're starting to see cooperation pulled back. People are concerned that they're being followed. People are concerned that they can't trust law enforcement," said FBI Newark Special Agent in Charge Michael Ward.
Ward said the NYPD's spying on mosques and Muslim businesses in the Garden State has caused sources to dry up and made the job of gathering counter terrorism intelligence much more difficult, reports CBS 2′s Marcia Kramer.

"It's starting to have a negative impact. When people pull back cooperation it creates additional risks. It creates blind spots. It hinders our ability to have our finger on the pulse of what's going on around the state," Ward said.
It's extremely rare for law enforcement to gripe in public about their colleagues, but FBI director Robert Mueller was forced to apologize to Ray Kelly and friends late last year after FBI agents anonymously mocked a terror arrest. Mueller said that working together with other agencies has been "a long-term problem with the FBI," but that they're making "significant strides." The NYPD, specifically, might be threatening in its own special way, having been compared by our mayor to an "army," massive in both manpower and reputation.