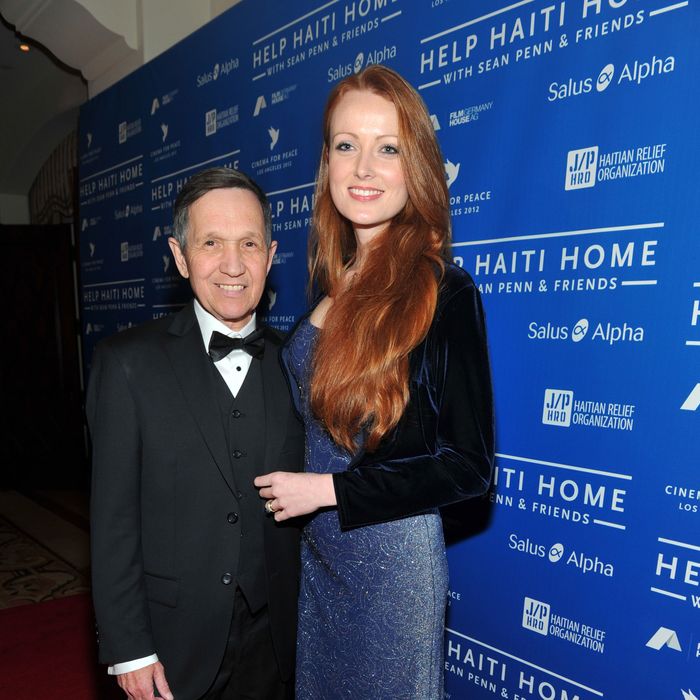 U.S. Representative Dennis Kucinich (L) and wife Elizabeth Kucinich arrive at the Cinema For Peace event benefitting J/P Haitian Relief Organization in Los Angeles held at Montage Hotel on January 14, 2012 in Los Angeles, California.
Photo: Alberto E. Rodriguez/Getty Images
Buried last night in the news of Romney's barely there Ohio victory was another story from my home state: Longtime Representative Dennis Kucinich lost his primary, in a newly gerrymandered district, to Toledo Congresswoman Marci Kaptur. Kucinich is mostly famous in the national press for being the left's most prominent wackadoodle, and he is indeed that. Most recently, he grabbed headlines for taking a "fact-finding" mission to Syria that was troublingly cozy with the dictator. He ran for president in 2004 and 2008 with zero chance of winning but a whole lot of rhetoric about corporate interests driving everything. He made himself an easy late-night target (well, slightly more than usual) when he sued Congress over tooth damage incurred after biting down on an olive sandwich in the cafeteria. He tried to impeach Bush and start a Department of Peace. He also, more puzzlingly to other Democrats, wondered in the press whether Obama ought to have been impeached over the Libyan war, and sued to stop the action. But for some Kucinich diehards, that was exactly the point of him: He seems a bit like Ron Paul in his willingness to extend his pure ideological convictions to the absolute extreme, without thought of practicality.
Kucinich wasn't just beloved by crunchy lefties in places like Washington State (where he flirted with packing up some carpetbags and heading after the news broke that his district would be redrawn, and still might) or the celebrities like Warren Beatty, Willy Nelson, and Russell Simmons who backed his congressional campaign; much of his core support in Cleveland came from blue-collar, old-school Catholics, of which he was one — the kind of demographic that seems to be moving toward the Santorums of the world these days.
My family wasn't in his home district, and so maybe we'd have been more irritated by Kucinich's cartoonish cable-news-grabbing antics if we were (as some suburbanites in his district seemed to be by the end of it), but he always felt like a Cleveland mascot of sorts. The 31-year-old "boy mayor" of Cleveland who'd seemingly flamed out early in part because of a deal he'd struck with a utility company that forced the city into default (but which later turned out to be a selling point for his comeback, when it turned out he'd actually saved the city money in the long run). The wizened Keebler elf who inexplicably was able to not only convince a statuesque redhead to marry him, but who seemed to have inspired in her the kind of head-over-heels crush Beatty could only have dreamed of. The composite national image of Ohio owes more to the massive malls and football stadiums of Columbus, but Cleveland thinks of itself as a city that embraces eccentrics, that is perpetually in the position of tragically doomed but scrappy underdog, and that is always worried about getting elbowed out of things. Kucinich fit on all counts.
Kucinich might still run for a Washington seat — a move that would sort of fit, too, for a town where the population's dwindled as people move on in search of jobs. There have also been rumors that he'd try to get a cable show, which would allow him to continue (if not ramp up!) all the goofy, Jon Stewart–catnip grandstanding. The last time he got kicked out of office, he had a talk-radio show — but he also hung out with Shirley MacLaine in L.A. and spotted UFOs. Whatever his next move is, it will probably come with a chaser of wackiness, which is exactly what makes Kucinich fun to watch.