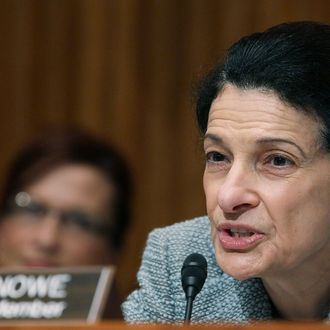 U.S. Sen. OlympiaSnowe(R-ME) (L) questions U.S. Treasury Secretary Timothy Geithner, during a Senate Small Business and Entrepreneurship Committee hearing on Capitol Hill on October 18, 2011 in Washington, DC. The committee is hearing testimony on "The Small Business Jobs Act of 2010" one year later.
Photo: Mark Wilson/Getty Images
Former independent Maine governor Angus King announced Monday night that he's running for outgoing Maine senator Olympia Snowe's seat. Snowe, a three-term moderate Republican, surprisingly declared last week that she would not seeking reelection, citing congressional dysfunction and the desire to correct it from outside the political epicenter. Sixty-seven-year-old King served two terms as Maine's governor from 1995 to 2003 and was quite popular, according to the New York Times. "If you like the system the way it is, I'm not your guy," King said. "If you want a shot at changing it, join me." A number of state officials, Democrats and Republicans, are considering joining King in the race, none of them with names much good for writing puns.