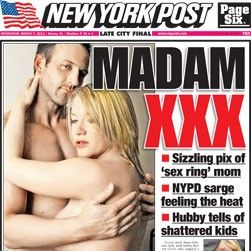 Accused Upper East Side madam Anna Gristina, who's also a mother of four and keeps farm animals, gave her first post-arrest interview to the New York Post from Rikers Island, and claims she's not the big fish that prosecutors wanted. "It's not about me; it's bigger than me," Gristina said, explaining that during her hours-long interrogation, she was shown a list of ten big names in business and politics, and asked to rat on them. "Some I knew, some I didn't," Gristina said. "In effect, it was, 'Tell us what we want, and we'll let you go.'" But she says it's not happening: "I'd bite my tongue off before I'd tell them anything."
The hype surrounding Gristina and the case against her are both starting to look a little overblown. "I got the impression they were trying to make a case, but they didn't really know what it was … They were obviously trying to get at something," she said. "I still have no idea what they wanted … They are trying to squeeze me for information that I don't even know what it is, or have."
When the interrogations were said and done, Gristina was with with just one charge. "If I'm such a big, high-profile madam, making all this money, and they had to investigate me for five years, why did they arrest me on a single promoting-prostitution charge — and only after I refused to talk to them?" she said. Gristina comes across as defiant, but calm, and even occasionally wry.
Prosecutors say Gristina raked it in, and she's being held on $2 million bond, but claims she's not loaded. "They say I've made millions for years, and I have — for other people," helping with real estate deals and other ventures. "I've been struggling to keep my daughter in college to pay the tuition. Our utilities are always on the verge of being shut off," Gristina said. "I can show you the bills." The Daily News reports that prosecutors are still searching for the bank accounts that she supposedly bragged about in wiretaps.
The Post, which is really flooding the zone on what's basically their dream story, also has a tour (with video!) of the East 78th Street apartment that was supposedly home base for the operation, although clients were usually "out-call." The place is a rent-stabilized one-bedroom for $600-a-month, and is decidedly mediocre. The Post found, for example: an Ikea-looking bed sitting basically on the floor, synthetic fabrics, cheap candles, the Christina Aguilera album Stripped, Fruity Pebbles, Progresso soup, plastic Buddhas, CVS lube, and a soft toilet seat. The lap of luxury.