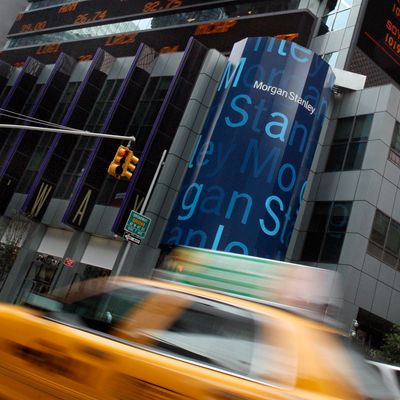 Photo: Richard Drew/APAP2010
For Morgan Stanley, the bad press continues: Last week it was the stabby Connecticut banker, and this week it's a man named David Walker, who has been identified by both the New York Post and Fox Business as the guy with "mommy madam" Anna Gristina at the time of her arrest. While Walker has not been charged with a crime, prosecutors said, "We picked her up yesterday with a Morgan Stanley banker who she counts a close friend and she had been present at his office for a meeting in which she was trying to solicit money to fund what we believe is another business venture on the internet that involves matching up male clients with female prostitutes." Walker reportedly works as a broker in the wealth management unit, but the bank isn't commenting. 
The Internet, however, reveals that on January 25, 2012, Morgan Stanley introduced a crop of 210 new managing directors, including one named David Walker.
Gristina's husband, Kelvin Gorr, meanwhile, is a real estate agent, and his website includes a glowing testimonial from "David Walker & Family." That could be a connection, but it's also quite a common name, one shared by a former chairman and senior adviser at … Morgan Stanley. Assuming he cares even a little about his Google results, that Walker, who's been knighted, can't be happy today.
Update: DNA Info spoke with Walker, who says he was not there when Gristina was arrested. "She was the mom next door," he said, calling her "very caring, very giving, very loving," and adding that he wasn't the only banker she knew. "She had plenty of other people at Morgan Stanley, I don't know why they're talking about me."