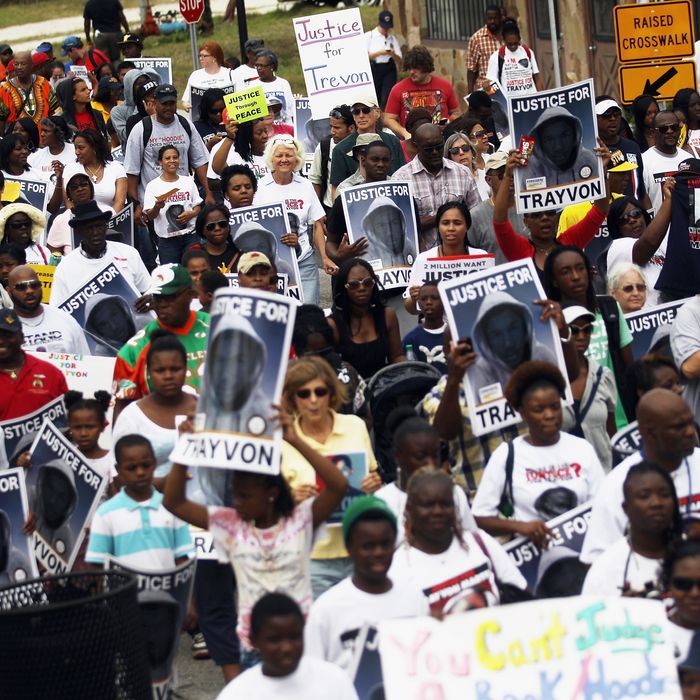 Protestors in Florida on Saturday. (Mario Tama/Getty Images)
Photo: Mario Tama/2012 Getty Images
Over a thousand people took to the streets of Sanford, Florida, Saturday morning to protest the lack of arrest in the death of Trayvon Martin, who was shot by George Zimmerman on February 26. The demonstration began at a high school, where NAACP head Benjamin Jealous and Al Sharpton denied that Sharpton's National Action Network hoped to place "economic sanctions" on the town. "We're not here to call for a boycott," Jealous told reporters. Sharpton added that such a move was "never on the table." However, he said that there could be unspecified, nonviolent action against national corporations that support Florida's now even more controversial "Stand Your Ground" law, which was cited as the reason Zimmerman was not arrested after the incident. The rally (also attended by Jesse Jackson and Martin's brother, Jahvaris Fulton) continued with a march toward the headquarters of the local police department. 
The activity caps off yet another heavy news week in the case, which included the increased prominence of hoodies and Skittles, Spike Lee's dangerous Twitter mix-up, and a post-shooting video of an unscathed-looking Zimmerman, which suggested to many that the violent physical struggle he claimed prompted him to shoot Martin didn't happen as he described it. An interview with the funeral director who received the teenager's body, who said he saw no physical signs like there had been a scuffle [or] there had been a fight," seems to back up that theory. 
In a letter posted to the website of the NAACP prior to to the protest, organizers issued a direct plea to Angela Corey, the special prosecutor assigned to the case "to prosecute the case judiciously, and to passionately pursue justice." Meanwhile, Florida Attorney General Pam Bondi  has asked for patience: "You never want to make an arrest too soon," she told CNN as she asked everyone involved to "wait and let [the investigation] happen." Of course, as evidenced, a lot of people feel they've waited long enough.