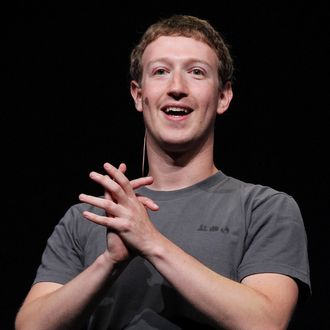 Photo: Justin Sullivan/Getty Images
A lot of people stand to make a lot of money when Facebook goes public, and that's the case whether or not co-founder and CEO Mark Zuckerberg plays by the etiquette rules. But by skipping the company's first briefing for bankers and analysts, Zuckerberg, who will control 56.9 percent of voting shares after the IPO, is rubbing some people the wrong way, Reuters reports:
"Investors are crazy to want to get in bed with a company where the guy who controls it doesn't even pretend to care about the rest of the shareholders," said Greg Taxin of activist investment firm Spotlight Advisors, who will not buy shares. "That seems like a recipe for disaster."
A standoffish CEO in the Steve Jobs mold isn't rare — they have a company to run — but they don't typically have as much stock sway as young Zuckerberg. "We don't think that he should be hiding from the investors," explained a moneyman for the Teamsters, who, along with other potential investors, would just like Zuckerberg to show his face and maybe fake a smile.
And yet, the personality issues are not likely to affect the actual IPO, which could value the company near $100 billion. Numbers like that will heal a lot of hurt feelings, for now.