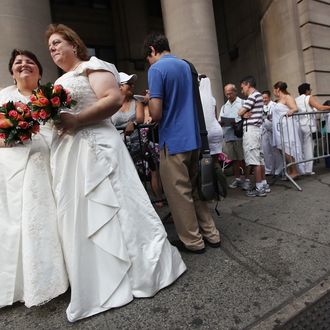 Maryland governor Martin O'Malley signed a bill legalizing gay marriage on Thursday, making his state the seventh to pass such a measure (plus the District of Columbia). "Religious freedom was the very reason for our state's founding and at the heart of religious freedom is the freedom of individual conscience," Martin said, before signing the bill scheduled to take effect in 2013. But like Washington, which passed a gay marriage bill last month, opponents of the Maryland law are expected to rally signatures to overturn it with a referendum later this year.
In fact, the folks outraged by the bill have begun circling:
In order to put the measure on the November ballot, opponents of the new Maryland law will need to collect nearly 56,000 valid voter signatures, equivalent to 3 percent of the people who cast ballots in the 2010 gubernatorial election. Last week, opponents submitted draft language for a ballot referendum to overturn the gay marriage measure after it passed in the state legislature.
The conversation surrounding the bill is expected to be heavily influenced by churchgoers and church leaders. "The Catholic Church, which has 1.2 million parishioners in Maryland, also has openly opposed the bill," the Associated Press reports. Black pastors have begun to voice strong opposition to the bill as well.