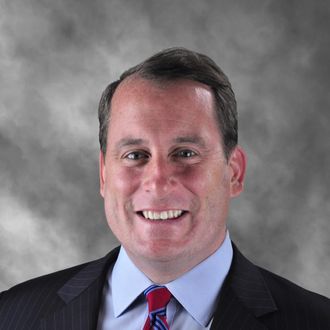 Photo: doheny4congress.com
Earlier this week, Gawker published photos of engaged upstate congressional candidate Matt Doheny getting cozy with, and maybe kissing, a campaign consultant in D.C."We're just friends, and it was a whole big group of us," the woman insisted, and since their lips aren't exactly shown meeting, perhaps it was just loud (?) and they were trying very hard to hear each other (while touching). Today it becomes more difficult to give Doheny the benefit of the doubt: The Post says they have video of the incident and "his hand can be seen sliding over the backside of Monica Notzon, a fund-raising consultant to his campaign."
"These pictures demonstrate nothing more than two old friends joking around as they sat with other friends," said a campaign spokesperson. The Post's video reportedly shows the Republican with his arms around two women, both of whom he is "groping."
"It's sad that Democratic operatives would lay in wait as a group of friends enjoyed a nice evening. But then, the Washington special interests will stop at nothing to keep [incumbent] Bill Owens in Congress." Doheny was in D.C. for the National Republican Congressional Committee's "candidate school," prepping for his campaign in New York's 23rd district. At the beginning of the year, Doheny announced he had proposed to his longtime girlfriend, Mary Reidy. "I am saddened at the state of journalism and politics," she said in a statement. Their wedding is supposedly still set for June, while local politicians are reportedly supporting him, for now.
But apparently this behavior is not out of character for Doheny. "He's your Wall Street-type — go, go, go, work hard, play hard," an anonymous GOP official told the Post. "You might be able to do that on Wall Street, but not as an elected official." Doheny has also been arrested twice, once while belligerent, for boating while intoxicated.
Update: Below is the Post's video of Doheny being very friendly.