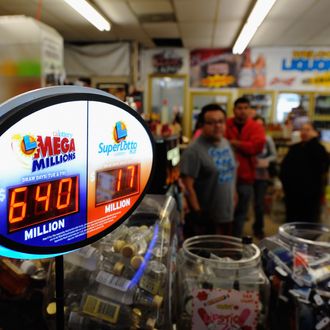 Photo: Kevork Djansezian/2012 Getty Images
Hello, Internet, have you heard that people are really freaking out about tonight's Mega Millions jackpot? The details: you could win a lotto record of $640 million; you aren't going to win that $640 million (it's about $347 million after taxes, anyway). But that hasn't stopped millions of wannabe millionaires from trying. Some prime examples:
The Las Vegas Sun reports that thousands of people waited on line for up to five hours at the Primm Valley Lotto Store in California (Nevada does not participate in the draw). Rosemary Martz made the 40-minute trip to the border after her shift at the Bellagio in Las Vegas ended at 7 a.m. She bought twelve tickets with her friend, explaining: "We work at a casino, so we know about odds."
Some drove from Utah, which also does not participate in the draw, to the Beaver Dam Service Station in Arizona buy their tickets.
Mega Millions mania has also hit Beverly Hills. The L.A. Times spoke with Michael Steinberg, a 71-year-old contractor who drives a Porsche Carrera: "I'd like you to show me somebody who can't make use of $540 [now $640] million," he said. Fair enough.
New Yorkers across the state spent $2.4 million on tickets between the hours of 11 a.m. and noon today.
Former New Hampshire Senator Judd Gregg, a lottery winner himself, told Politico that the winner should seek "very professional" financial assistance. Gregg won over $850,000 from the Powerball lottery in 2005. "I was very surprised," he said of his win. "Kathy, my wife, had spent the money before I even got it. I'm just kidding."
What are lottery hopefuls planning to buy with their new fortunes?
One Tebow fan said he'll buy a Tebow jersey and do the Tebow pose.
BuzzFeed has compiled some of the best tweets of people saying what they would do if they won big. Our favorite: buy "a very expensive bottle of cognac." We're talking about $640 million — dream big!