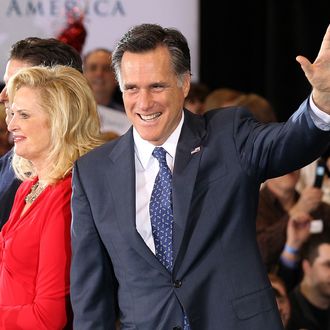 Mitt loves Michigan.
Photo: Justin Sullivan/2012 Getty Images
Mitt Romney's unimpressive Michigan primary win just became slightly more impressive, owing to Michigan GOP officials' reinterpretation of its primary rules. The announced 15-15 delegate split between Romney and Santorum was based on an incorrect rule, according to the Michigan Republican Party Credentials Committee. Each candidate was awarded one of the two at-large or "statewide" delegates based on a proportional allocation, but now the powers that be say both at-large delegates should have been awarded to the popular vote winner, which was Romney.
So now Michigan has awarded Romney sixteen delegates, and Santorum fourteen, although it's still 15-15 according to Santorum.

Santorum said in an e-mail that Michigan's ruling is an "election scandal" and that he intends to appeal the decision.
The New York Times writes that the Santorum campaign accused the state party of "thuggery." The two votes are miniscule in the big picture, but remember Santorum similarly got shafted in Iowa when Romney was narrowly declared the winner, a decision which was reversed, but which Santorum from getting the attention and momentum from winning Iowa's caucuses.
But Santorum is intent on living in a universe governed by his own perceptions:
Mr. Santorum, speaking to a crowd of a few hundred people at a megachurch here in advance of the Washington caucuses on Saturday, did not refer to the delegate dispute. In fact, he said he had an equal number of delegates and implied that he had won Michigan.

Mr. Santorum suggested that he had lost Michigan because of absentee ballots cast before voters knew that he had won Missouri, Minnesota and Colorado in mid-February, but he offered no evidence to support that.

"Two weeks before that election, from that point on, we won the vote," he said.

"The folks in Michigan voted for Rick Santorum," he added, "and we came out of Michigan with the same number of delegates as Governor Romney did — not bad in his home state."