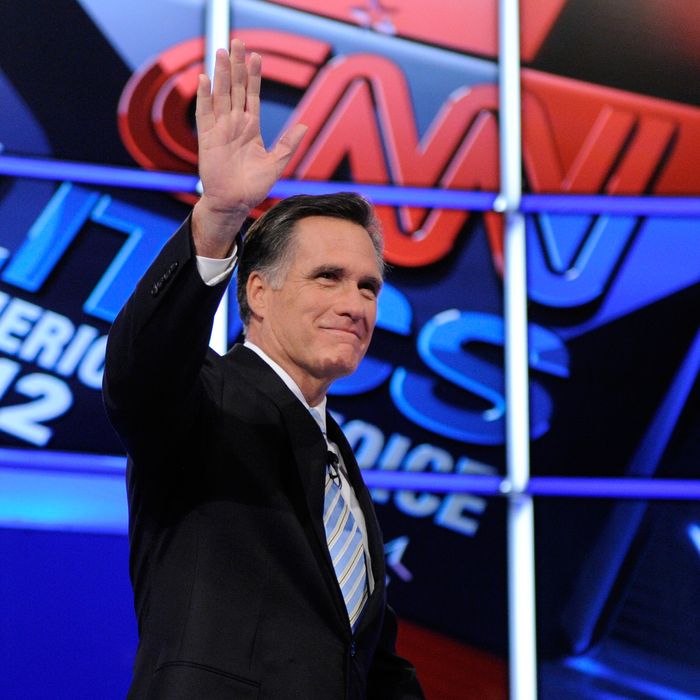 Hello, American registered voters. In return for your vote, I will increase your disposable income.
Photo: Ethan Miller/2012 Getty Images
Appearing on CNN this morning, Mitt Romney's spokesman Eric Fehrstrom was asked if his candidate had been forced to take too many conservative positions to win a general election. Fehrnstrom replied:
>
Well, I think you hit a reset button for the fall campaign. Everything changes. It's almost like an Etch A Sketch. You can kind of shake it up and restart all of over again.
There are two problems here. First, he's giving the game away way too early. Of course Romney is going to try to reposition himself toward the center. But he's in the process of convincing conservatives he's really with them. Fred Barnes, in a column praising Romney, writes today, "His plan was to run as a moderate but govern (I think) as a conservative. He's abandoned the moderate mask and positioned himself firmly in the conservative camp." That was the plan – persuade conservatives that they're in on the con. Now Romney will give them grounds to wonder if they're the suckers. It's okay to do that after you've sewn up the nomination, but not while conservatives can still make your life difficult.
Second, Romney's campaign suffers from a general problem of failing to hide its cynicism. The campaign's grasp of the underlying dynamics is totally sound. It sees President Obama's political vulnerability as stemming entirely from the 2007-2008 economic disaster, and it views conservative ideology as ballast upon Romney. If Romney can avoid positioning himself too far from the center, and the economy fails to recover swiftly enough, he should win. Presto!
The problem here is that, for the process to play itself out the way political scientists would forecast, you need to conceal the calculations a bit. For instance, you obviously can believe that your need to win elected office would make you more reluctant to hire illegal aliens, but you shouldn't just say that. And obviously you're going to reposition yourself for a different audience, but that works a lot better if you pretend you're advancing actual core beliefs.
Likewise, there are a lot of techniques guys use to pick up girls that work pretty well. But if they just said things like, "I am going to feign strong interest in what you're telling me in hopes of establishing an emotional connection that will loosen your sexual inhibitions," the success rate of those techniques would probably fall.