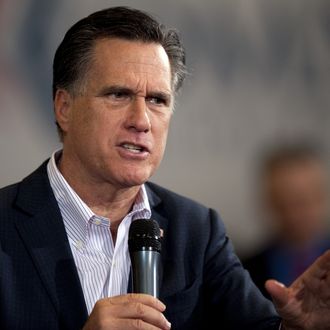 Karaoke?
Photo: Jim Watson/AFP/Getty Images
And it's all coke rap! Nope, not at all. The official Romney playlist features a wide range of music, all the way from stuff that some white people like (Toby Keith), to stuff that all white people like (the Beach Boys). There's also something for the Mormons (the Killers — twice!), something for the virginity-challenged ("Oh What a Night"), something to lure in the Ron Paul potheads (Willie Nelson) and a couple things, possibly, that speak to Romney's current state of mind ("Desperado," "I Am a Man of Constant Sorrow").
"I Am a Man of Constant Sorrow" by the Soggy Bottom Boys
"Read My Mind" by the Killers
"December, 1963 [Oh What a Night]" by Frankie Valli & the Four Seasons
"Ring of Fire" by Johnny Cash
"Somebody Told Me" by the Killers
"The MTA (The Boston Subway Song)" by the Kingston Trio
"Good Vibrations" by the Beach Boys
"Desperado" by Clint Black
"Crying" by Roy Orbison
"Only You " by the Commodores
"Runaway" by Del Shannon
"It's Your Love" by Tim McGraw
"As Good As I Once Was" by Toby Keith
"Born Free" by Kid Rock
"Over the Rainbow" by Willie Nelson
"Stardust" by Nat King Cole
"In Dreams" by Roy Orbison
"Somebody Like You" by Keith Urban
"All-American Girl" by Carrie Underwood
And there you have it, the playlist for your next party, if your next party is a 40th wedding anniversary.
Related: Barack Obama Just Joined Spotify