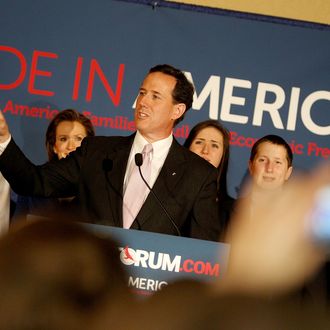 Photo: Sean Gardner/2012 Getty Images
Great night for Rick Santorum, and a lousy one for both Newt Gingrich and Mitt Romney. So much for cheesy grits and moon colonies.
Here's what happened tonight: Alabama was called for Santorum at 10, and Mississippi for Santorum just before 11 PM. "The Republicans are having a three-way!" MSNBC's Lawrence O'Donnell declared gleefully. In between his victories, Santorum took the podium in Lafayette, Louisiana to announce: "we did it again." He traded his usual sweater vest for a suit with a purple tie thanked "everybody" for supporting his campaign and then, God.
A subdued Gingrich spoke after Santorum's win in Mississippi from his HQ in Birmingham, Alabama. He congratulated Santorum and declared "the elite media's effort to convince the nation that Mitt Romney is inevitable just collapsed…if you're the front runner and you keep coming in third, you're not much of a front runner."
Romney came in third in both states, and it doesn't look like his morning will be much better than his night: Occupy Wall Street is preparing a "pop-up occupation" at 11 AM tomorrow outside a fundraising lunch the Waldorf-Astoria. Romney struggled with evangelical voters, who gave Romney 29 percent of the vote in Mississippi and 27 percent in Alabama. Politico's delegate tracker counts in 424 delegates for Romney, 212 for Santorum and 103 for Gingrich.
It's been an exciting, catfish-filled week of campaigning in the Deep South, and the presidential hopefuls made their final pitches today. Rick Santorum told Glenn Beck that it would be "great" if Gingrich would just get out of the race already. In Tupelo, Mississippi, Gingrich explained Twitter at a campaign stop: "You send out tweets to 'tweeples' so everybody who's on Twitter is a tweeple." Mhm!
In other news, a gorilla is on the loose in Alabama. We'll keep you posted as primary results come in.