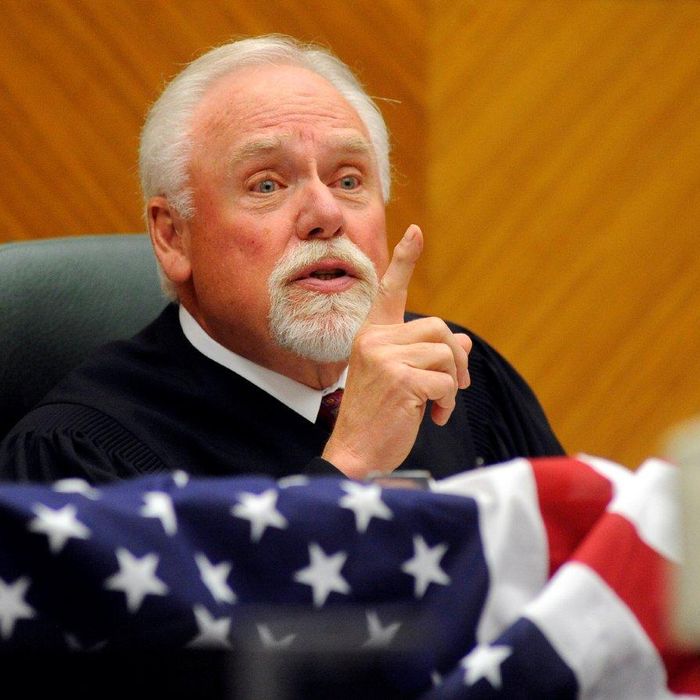 Judge Cebull probably won't forward jokes anymore.
Photo: James Woodcock/Billings Gazette/AP
U.S. District Judge Richard F. Cebull, Montana's chief federal judge, sent an e-mail to some old buddies with a joke that implied President Obama was the offspring of his mother and a dog. Cebull, who's admitted that the joke is racist, said the joke was forwarded to him from his brother. The message's subject line was "A Mother's Memory."

The Great Falls Tribune, which obtained the forwarded message, published it in its entirety:
"Normally I don't send or forward a lot of these, but even by my standards, it was a bit touching. I want all of my friends to feel what I felt when I read this. Hope it touches your heart like it did mine.

"A little boy said to his mother; 'Mommy, how come I'm black and you're white?'

"His mother replied, 'Don't even go there Barack! From what I can remember about that party, you're lucky you don't bark!'"
Notwithstanding that the joke is distasteful, to say the least, it probably wouldn't have been a problem if it were sent from a personal e-mail account. But it was not: Cebull dispatched the joke from his official courthouse address, and then it was circulated further with his name still attached. Eventually, someone whose heart wasn't warmed by the content got a hold of it.
"The only reason I can explain it to you is I am not a fan of our president, but this goes beyond not being a fan," Cebull said. "I didn't send it as racist, although that's what it is. I sent it out because it's anti-Obama."
Cebull has written apologies to other federal judges in Montana, and has "publicly acknowledged that he has acted inappropriately." But people are calling for his resignation. He's taken a proactive approach, though, initiating a misconduct complaint against himself.
Montana immigration attorney Shahid Haque-Hausrath said that Cebull's conduct violates the federal Code of Conduct for United States judges, which states, in part, that a judge, "should avoid impropriety and the appearance of impropriety in all activities."
Cebull was appointed to the bench by George W. Bush in 2001. Per the U.S. Constitution, it's an appointment for life that can only be terminated by congressional impeachment, a rare occurrence.