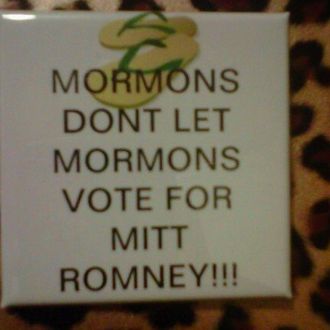 Pins circulated in Nevada last month. (via BuzzFeed)
Photo: Buzzfeed
Yesterday, we saw how Rick Santorum is struggling to win over Catholics. In fact, only 42 percent of Catholic Republicans even know that Santorum is one of them.
By contrast, pretty much everyone knows that Mitt Romney is a Mormon — but that doesn't mean he can count on full LDS support, either. According to BuzzFeed, a small group of Mormon libertarians is trying to convince fellow churchgoers to stop supporting Mitt Romney, owing to his bellicose rhetoric on Iran and Russia. They just put up a billboard in Orem, Utah, that directs people to WarlikePeople.com, a slick website where an antiwar sermon from Spencer W. Kimball, past church president, is reproduced in full. Other Mormon libertarians claim that pro-corporate, pro-mandate, pro-war stances fly in the face of Joseph Smith. 
Catholics against Santorum, Mormons against Romney … What's next, Keebler elves against Ron Paul?