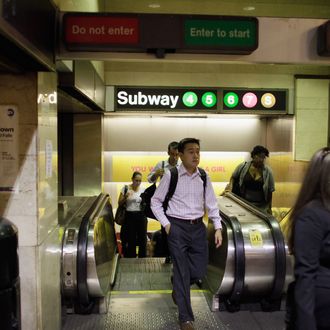 Photo: Joe Raedle/2011 Getty Images
The 6 train can be stressful. It makes stops no one wants to get off at (33rd Street and 28th Street?) and it is crowded with people wearing ties. Today, that anxiety seems to have gotten the better of one MTA employee who allegedly punched a passenger at the 138th Street 6 train station.
The yet-unnamed female MTA employee got into an argument with a passenger who was rummaging around in her purse for exact change for her Metrocard swipe. At this point, the victim's husband says, the MTA worker picked up the passenger by the neck and punched her several times in the eye. Oof! The MTA employee was arrested and the passenger was taken Lincoln Hospital in the Bronx to be examined.