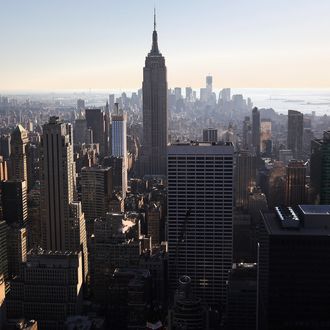 Photo: John Moore/2012 Getty Images
New York's Transportation Department has proposed a new passage for pedestrians in midtown, unofficially called Sixth-and-a-Half Avenue. The Harry Potter-esque thoroughfare would use stop signs (those things you find in suburbs) and pedestrian crossings to create a six-block walkway between office buildings. It would run from 51st to 57th streets between Sixth and Seventh avenues, linking walkways and open-access lobbies.
The Times' City Hall reporter Michael Grynbaum tweeted this morning that Bloomberg called the proposal "a very clever idea. Streets are for cars? Streets are for people."
For years, midtown-oriented New Yorkers have known about the walkway, the quasi-secret passage to navigate to what the Times seems to consider illegal amounts of fun:
Residents can finish off a lunchtime sirloin at the Capital Grille on West 51st Street, take in a movie at the Ziegfeld Theater three blocks north and retire to West 57th Street for drinks at the Russian Tea Room without ever setting foot on an avenue. Soon, it seems, they will be able to do so legally.
Not everyone is on board. After business hours, the thoroughfare is often used by cars rather than pedestrians. Shonna Lewis recently walked through the passage on her way to the gym when a taxi almost hit her. "He clearly saw me coming and was going faster. I slammed on the hood — New York style." Atta girl, Shonna!
The idea of a half-avenue isn't entirely new: in 1910, then-mayor William Gaynor proposed a passage  between Fifth and Sixth avenues which would have split Bryant Park in two. The plan lost steam after someone tried to assassinate the mayor.
Community Board 5 will vote on the proposal on April 12th.