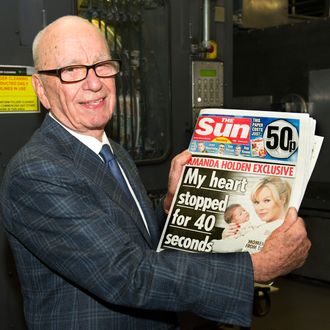 Hey, did you hear about the Sun's new edition, The Sun on Sunday?
Photo: Handout/2012 News International (NI Group Ltd)
The FBI's investigation into the News Corp. scandal has now reached Russia, in connection with a former subsidiary "News Outdoor Russia," a signage company that may have bribed officials to approve sign placements in the country, The Wall Street Journal reports. (News Corp. owns the Journal.) As part of its probe into the Rupert Murdoch–owned media conglomerate's phone-hacking and bribery mess, the FBI is examining possible corruption or bribery overseas to determine whether and to what extent the illegal practices might have pervaded the company and its subsidiaries.
A spokesman for News Outdoor Russia, which was opened in the country in 1999 and sold by News Corp. last July to a group of investors led by a Kremlin-controlled bank, distanced the company from its former parent, saying, "This is not possible." Further, he said, "News Outdoor Russia was an investment project for News Corp. and [News Corp.] didn't participate in the operations of the company."
The Journal report is sparse on details on the possible illegalities, only saying that there might have been bribery related to the approval of billboard signs. It's unclear whether those bribes would secure permits in areas that were either unattainable by others, difficult to obtain, or related to the content of the signs themselves.
The billboard company was profitable for News Corp., valued at $1 billion in 2007, although it sold for nearly a quarter that in July 2011 for $270 million. The New York Times reported last year that the sale was unrelated to the phone-hacking scandal.
The News Corp. scandal-trackers who picked the U.S. as the next destination will have to wait until next round.