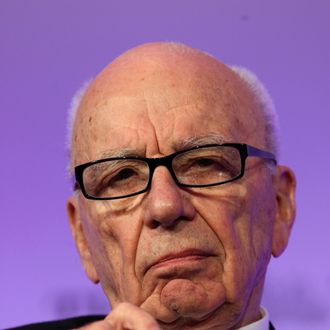 Photo: WPA Pool/2011 Getty Images
While News Corp. is a U.S.-based company, Rupert Murdoch's continuous issues, which now include widespread bribery along with phone hacking, have been mostly relegated to the U.K. His British papers' problems have threatened to spread Stateside for months, mainly via the Foreign Corrupt Practices Act, but Reuters reports today that three potential phone-hacking victims are considering filing the first related lawsuits in the United States:
The source said London police had showed the three people documents seized from Glenn Mulcaire, a private investigator who worked for Murdoch's now-defunct tabloid News of the World.

The documents indicated Mulcaire had collected phone numbers and other information on the targeted individuals when they knew they were in the United States, said the source.

The evidence — in the form of detailed notes Mulcaire took regarding assignments he received from journalists at the newspaper — does not prove the persons targeted by Mulcaire had their voicemail hacked, the source said.
Such suits have been considered before and the proof isn't absolute, but News International has already spent millions of dollars settling cases overseas and there doesn't appear to be an end in sight; the last thing Murdoch needs is to be fighting a war on two fronts.