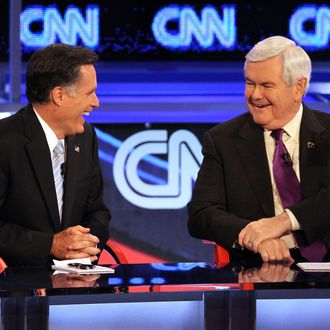 Two very rich people.
Photo: Justin Sullivan/Getty Images
Newt Gingrich, hoping for one last miracle comeback on Super Tuesday tomorrow — he's the front-runner in his home state of Georgia, and nowhere else — is back to playing the populist card against Mitt Romney and his inestimable wealth, a tactic that requires Gingrich to ignore the fact that he is also very, very rich. 
Newt Gingrich on Monday offered a blistering rebuttal to Mitt Romney's critique of his $2.50 per-gallon gas plan, suggesting Romney was "rich enough" to be unconcerned with rising gas prices.

"Well look, if you're Mitt Romney and you're rich enough, maybe you don't get it," Gingrich said on Fox News.
"Rich enough" would also certainly describe Gingrich, who, according to his most recent financial disclosure form, had a net worth of at least $6.7 million in 2010, and an income of $2.6 million, placing him in the 99.9 percentile among all Americans. He's not as well off as Romney, but he isn't exactly subsisting on ketchup soup and "pasta surprise," which is what we call it when you combine the last little bits all the pasta shapes you have in your cupboard. Every forkful is a surprise!