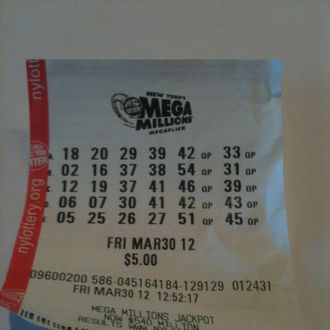 The lottery frenzy has passed, but not too happily for anyone who left home yesterday with a spring in their step (and dollar signs flashing like a strobe light in their brain) to buy $5 worth of lottery tickets at a certain Bedford Avenue newsstand. That's because the three winning tickets in last night's record-breaking $640 Mega Millions jackpot — drumroll please for the magic numbers: 2, 4, 23, 38, 46 and 23 again — were reportedly sold in Red Bud, Illinois (near St. Louis), Baltimore County, Maryland, and somewhere in northeast Kansas. So far no one has come forward to claim their $213 million share of the winnings, although some early morning twittering suggested that Maryland-based producer Tom Kreft had won. But when reached by Business Insider, all he had to say was: "Sorry. It was an early April Fools Day prank. Sad to say I didn't win anything but a little attention."
And so the wait continues for the true identity of the lucky *expletives* who won, after which we will all tap into humanity's bottomless pool of aspirational delusion and tell ourselves that next time, maybe just maybe, it'll be our turn. But there is a consolation prize for all the bummed-out New Yorkers, courtesy of the Daily News' Katie Nelson: 17 $250,000-prize tickets were sold in the state, including four in Manhattan, and one in each of the other four boroughs. Update: In fact, three were sold in the Bronx, according to a complete list that the Post has published.
Sadly, we cannot at this time confirm for you the identity of the Brooklyn winner because this stupid ticket (see picture) from that miserably unlucky Bedford Avenue newsstand only has two matching numbers and no matching Megaball number. As a certain no-luck fictional Manhattanite would put it: Blerg!