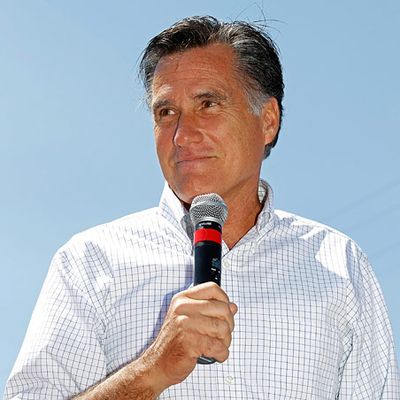 Photo: George Frey/2011 Getty Images
An Open Letter to Republican Primary Voters:
I imagine you must be feeling pretty bummed out right now, and I'd like to help.  Super Tuesday has come and gone, and let's face it, all these guys in your life still seem less than super.
You've had your flings with Herman, Rick, and the Donald. Now it's down to three flawed suitors, and you're at a loss. In your heart of hearts, you want to find President Perfect — with the communication skills of Reagan, the sex appeal of Scalia, the Obama-beating powers of former Black Panther Bobby Rush — but he's nowhere to be found, and your electoral clock is ticking.  If you live in Mississippi or Alabama, your state primary is today, meaning you have mere hours to find The One.  What to do?
Voter, my advice is this: Settle for Mitt.
I know, I know, your idealistic heart yearns for more. But don't forget to see the broader picture. For instance, Mitt's talent for wearing suits very, very well. Also, he's what they used to call a "good provider," as long as you don't work for one of the companies his private equity firm bought and stripped for parts. He seems like a great dad. He even put the family dog on the roof of their station wagon for twelve hours so that his precious sons could enjoy a spacious ride.
Still not feeling him? He looks good on paper, and you wish you could fall head over heels, but you just can't get quite excited no matter how hard you try?
I hear you.  Really, I do. But your real problem isn't that there are no good men out there. Your real problem is that the men you're always attracted to aren't the kind of men who will make you happy.
Sure, you could get some more hot rhetorical demagoguery from Newt, or some retrograde cultural fantasies from Rick. Those guys have passion to spare. But we all know how relationships like that end: With a punishing loss to Barack Obama in the general election.
You haven't found Mr. Right on the right because your "type" might fire up your partisan loins, but that's the stuff of early primary flirtations, not winning elections.
If you really want to put the destructive flings behind you and actually win in November, you're going to have to see Mitt's positive side, get him elected, then start ceaselessly haranguing him. Because if history is any judge, Mitt will be very open to changing whatever it is that makes you unhappy. And who doesn't want that in a relationship?
Lori Gottlieb is the author of Marry Him: The Case for Settling for Mr. Good Enough and a contributing editor for The Atlantic.