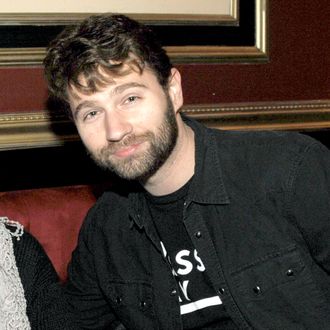 John Buffalo Mailer.
Photo: Liam McMullan/PatrickMcMullan.com
The once-great Village Voice has seen scandal after firing after layoff since being purchased by the Arizona-based New Times Media in 2005. And for the last two weeks, the paper and its owner (now renamed "Village Voice Inc.") have faced their most devastating criticism yet.
The controversy surrounds Backpage.com, a classified site on which pimps and johns regularly buy and sell prostitutes. Village Voice Inc. owns and operates the website, and pockets around $22 million a year in fees from its services. Times columnist Nick Kristof sparked the outcry. Today, it became a family affair. John Buffalo Mailer — the son of famed journalist, editor, and Voice-cofounder Norman Mailer — just joined a protest outside of the paper's offices.
Mailer read a statement from "Alissa," the former prostitute featured in Kristof's column. He added:
It's very hard for me to be up here today because I've always loved the Village Voice. I've always loved what it represents, and it was intended to be the people's paper. And so to see where it's come, when a paper that was there to hold people who abuse power accountable, an independent voice, to see them now justifying their actions for this profit is heartbreaking.
Three city council members also spoke at the protest, which was organized by the seminary group Groundswell. According to one of the politicians in attendance, almost all of the sex-trafficking cases prosecuted in Brooklyn in the last year and a half involved "girls marketed on Backpage.com."
Adding to the slime factor: an uncomfortable investigative series that the paper printed in June of last year, titled "The Truth Behind Sex Trafficking." The articles downplayed the problem of sex trafficking, and argued that bleeding-heart advocates were skewing the facts. Even more cynically, the paper started a "campaign" to support a senate bill that would provide funds for victims of underage prostitution.
They won't close Backpage.com though — despite the "19 U.S. senators, 51 attorneys general, [and] some quarter of a million people who have signed an online petition at Change.org" urging them to live up to more Mailer-esque ideals. 
The company defends itself by asserting that closing Backpage.com wouldn't really stop sex trafficking. Really.