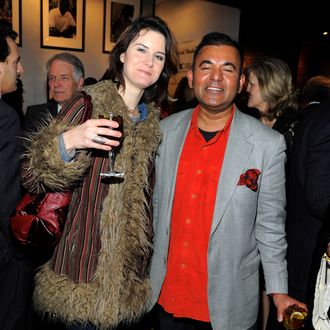 Priyantha Silva at the Opening Night of the 57th Annual WINTER ANTIQUES SHOW, January 20, 2011.
Photo: Patrick McMullan/PatrickMcMullan.com
What compels a person to become a serial party-crasher? If you're trying to get into the kind of parties Priyantha De Silva was crashing, it is, perhaps, that you think proximity to the people "Page Six" writes about will somehow be transformative in some meaningful way — that eventually, maybe, you will become one of the people gossipmongers watch for. In De Silva's case, it did indeed eventually happen, but only when he was exposed as a fraud. This morning's Post, for instance, was probably a bittersweet read for him.  There was his name in bold! But only because "Page Six" was reporting on the sentence of up to three years that he faces for his forceful social climbing.
"Page Six" reported in January 2011 that De Silva was arrested after he crashed the Elizabeth Seton Pediatric Center's November 2010 Going Gatsby gala, for which he bought a $150 ticket at the door. He paid for the ticket and a $1,500 Prada bag during the event's silent auction with a fake Bank of America credit card. […]

The incident was the latest in a string of De Silva antics over the years, which included impersonating editors at Condé Nast and producers of the movie Crash to get into red-carpet events, as well as allegedly writing bad checks and opening fraudulent bank accounts. De Silva also had a warrant out for his arrest after he was cited in 2009 for urinating in public on Meadow Lane in Southampton.
Presumably, Rikers, where he's been since his 2011 arrest, is not exactly a party atmosphere.