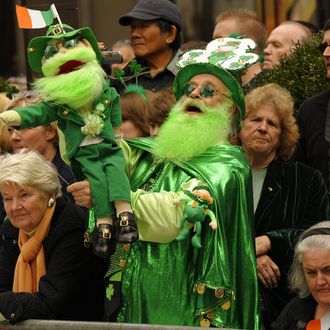 Photo: TIMOTHY A. CLARY/2012 AFP
According to early estimates, New York's St. Patrick's Day parade drew over 2 million people — and some real-life leprechauns (see above) — this year. (The rest of New York's residents were presumably hidden away in the bars.) As everyone knows, you don't have to be Irish to enjoy the holiday, but Michael Bloomberg (who is still probably trying to live down last year's "inebriated Irish" comment to the American Irish Historical Society) did take the opportunity to tweet his thanks to the people who gifted us with this particular societally approved bender: "Happy St. Patrick's Day from a city that wouldn't be as great without the Irish." Indeed, the Irish have a long and storied history in New York City, including service in the Union Army's Irish Brigade and the difficult task of organizing the Lower East Side and the Five Points neighborhood into powerful political constituencies (first à la Gangs of New York, and later through Boss Tweed — himself part Irish — and his Tammany Hall machine). Here, a by-the-numbers look at Irish-Americans in New York City and the nation, mostly gleaned from the 2010 U.S. Census.
New York's rank among U.S. cities with most Irish descendants: 1
Factor by which Greater New York has more Irish descendants than Greater Boston: 1.87
Percentage of New Yorkers who claim Irish ancestry: 11 percent
Number nationwide who claim Irish ancestry: 35.6 million
Number who speak Irish Gaelic at home: 22,279

Minimum number of U.S. presidents of Irish descent: 20
Name of the most recent one: Barack Hussein Obama II (his mother's family was originally from Moneygall, Count Offaly)
Minimum number of "Irish" New York City mayors: 11
Minimum number of "Irish" New York City bishops: 12

Guinness's rank among buzz-iest St. Patrick's Day beers in the city: 2
Rank nationwide: 6
Beer ranked first: Samuel Adams
Also, a quick St. Patrick's Day tip: If you made it through this entire post, then you're definitely not anywhere near drunk enough, so call up your drinking buddy (you do have a drinking buddy, right?) and get to work on another Guinness.
Click here for GrubStreet's guide on "How to Drink Your Way Through the Entirety of Saint Patrick's Day."