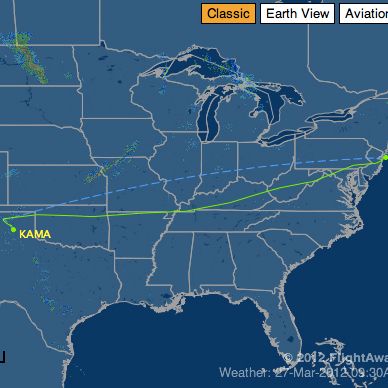 JetBlue Flight 191 departed from JFK this morning at 7:28 a.m., bound for Las Vegas. According to reports from Amarillo's ProNews 7 and CBS, the pilot was forced to make an emergency landing in Amarillo at 10:11 a.m., after the flight's captain exited the restroom "foaming at the mouth," and began banging on the cockpit door, shouting about a bomb onboard. Twitter reports from aviation observers are buzzing about a possible panic attack. A medical emergency had been declared onboard, and upon landing, multiple ambulances were dispatched to the airport.
You can track the plane's course here. A passenger who was allegedly onboard was shooting video as the flight descended to make its emergency landing. In the footage, the flights appears rocked by turbulence as many passengers stand, shouting.
Update: FoxNY quotes a passenger on the flight with more details surrounding the emergency landing:
I saw a guy wearing a pilot's uniform run down the aisle screaming and yelling and banging on the cockpit door to let him in.
The man was large, six foot three, and was heard screaming, "Say your prayers, say your prayers!" Four passengers, one of them a retired NYPD sergeant, tackled the man and restrained him on the ground.
According to JetBlue officials, the plane was forced to land because of "a medical situation with the captain." It is not yet clear if the shouting man described by the passengers was the plane's real captain, or a passenger dressed as a pilot. According to earlier reports, the man began banging on the cockpit door after emerging from the restroom.
Update 2: According to ABC News, the disruptive man was, in fact, a flight captain on JetBlue 191. He walked out of the cockpit, entered the bathroom, and was subsequently locked out of the cockpit by another pilot. Apparently, the man then began yelling "bomb!" and "we're going down!" before being restrained. The captain is now in FBI custody.
Update 3: Fox sources have identified the captain as Clayton Osbon, a JetBlue flight standards captain from Richmond Hill, Georgia.