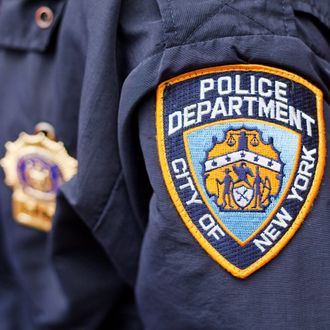 The long trial of NYPD cop Michael Pena, who was accused of raping a 25-year-old schoolteacher at gunpoint in Inwood last summer, is far from over, even after he was found guilty of sexual assault today. The Daily News reports that while Pena was found guilty on three counts of predatory sexual assault and three counts of a criminal sex act, the jury will continue to deliberate on the charges of first-degree rape.
Pena's defense lawyer argued that while Pena attacked the woman, he failed to have sex with her. "This was a terrible crime, an unforgivable crime, but it does not rise to the level of the charges," the lawyer claimed earlier this month. The victim sobbed in the courtroom as the partial verdict was read.
The trial hit a legal snag this morning  before Pena was found guilty of sexual assault: One of the jurors, Lloyd Constantine, is connected to Manhattan D.A. Cy Vance. Constantine, who was also an adviser to Eliot Spitzer, gave Vance's campaign $5,000 in 2008, has attended several Vance fund-raisers, and admitted to knowing the D.A. So why didn't he tell anyone? He told Manhattan Supreme Court Judge Richard Carruthers that he'd passed his "own subjective test."
The jury remains deadlocked on the rape charges and Carruthers has said he won't accept a partial verdict.
Defense lawyer Ephraim Savitt told the News: "There is a lot of bickering going on. It seems to be a remaking of 12 Angry Men."
Update: The Post has more on "Juror No. 2" Constantine, who is currently he's a law partner of Richard Aborn, who ran against Vance for DA in 2009. Constantine wrote a book about the Spitzer scandal titled "Journal of the Plague Year."