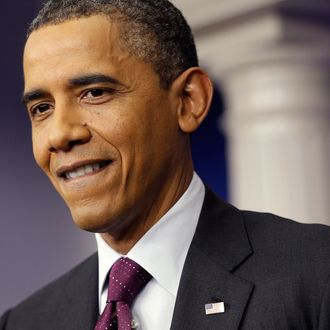 Photo: Chip Somodevilla/2012 Getty Images
The Ides of March seemed as good a day as any for Obama 2012 to (unofficially) kick off. Joe Biden won the morning with this picture and an energetic union-hall speech in Toldeo, Ohio, in which he actually named the Republican candidates for president. And at 8 p.m., Davis Guggenheim's seventeen-minute Obama documentary, The Road We've Traveled, premiered in all its Tom Hanks–narrated, spine-tingling glory. Let's take a by-the-numbers look at the film, paid for by Obama for America:
Mentions of Mitt Romney: 1, unfavorably by Rahm Emanuel on the auto bailout
Black and white photographs of Obama: 11
Mentions of FDR: 1 ("Not since the days of FDR had so much fallen on the shoulders of one president," quoth Hanks.)
Clip reels from the Great Depression: 2
Obama hugging babies: 2
Obama hugging Hillary Clinton: 1
Images of Obama with index finger resting on closed mouth, apparently deep in thought: 5, one of which was during a meeting with the Dalai Lama
Mentions of hope and/or change: 0
David Axelrod answered questions, submitted via Twitter, after the premiere. Someone asked how realistic The West Wing is. Axelrod answered the question sans irony, describing a day when Obama was set to make a decision about the auto bailout in between meetings about strategy in Afghanistan:
I went back to my office, and slumped in my chair, and the phone rang. It was Rahm Emanuel saying 'get in here, [Wells] Fargo is underwater'. I said what is this, an episode of The West Wing?
The GOP wasted no time mocking the documentary with a fake movie poster. According to the poster, the movie is does not star "13 million unemployed Americans, three record deficits and a coherent energy policy." But all Americans, left, right, or Ron Paul, can agree that the poster features some pretty amazing pictures of Biden and Obama having a water-gun fight while wearing baseball hats.
Guggenheim also directed An Inconvenient Truth and Waiting for Superman. Federal Election Commission reports show that the Obama campaign spent about $345,353 for the film, about $20,300 per minute. The Obama campaign declined to comment on whether that sum includes Hanks's compensation for his narration. We guess Morgan Freeman was busy that day.