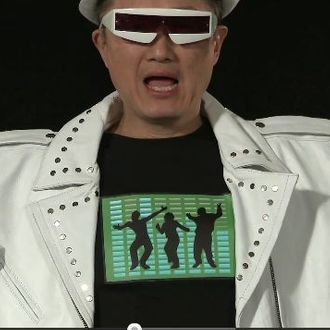 The White House confirmed this morning that President Obama has nominated Dartmouth's president, Jim Yong Kim, to lead the World Bank. Kim, a physician, helped found Partners in Health and directed the World Heath Organization's HIV/AIDS department.
The choice was unexpected — other candidates included economists like Larry Summers and Laura D'Andrea Tyson — and it's far from a done deal. Angola, South Africa, and Nigeria nominated Nigerian finance minister and former World Bank official Ngozi Okonjo-Iweala this morning.
Politico Playbook notes that Kim is a friend of Tim Geithner, who graduated from Dartmouth in 1983.
The World Bank's recently retired president Robert Zoellick was a former Goldman Sachs executive; Kim would the first public health expert to run the World Bank. The World Bank has traditionally been run by an American, but there's been pressure to appoint a head who comes from outside the United States or Europe. Obama will leave for a trip to Kim's birthplace, South Korea, tonight.
Economist Jeffrey Sachs wisely withdrew his bid this morning after the U.S. nominee was announced.
And now, feast your eyes on two videos of Kim in the Dartmouth Idol competition. In the first, he channels Michael Jackson, wearing a leather jacket, fedora, and a single white glove. Look for him around the 1:56 mark. In the second, he's a rapping spaceman. He comes in at 2:05.