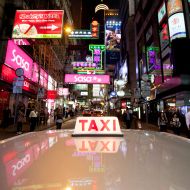 Hong Kong has beat out London, San Francisco, and New York as the most expensive city in the world to set up shop. Knight Frank, a property services group, reports that the cost of renting office space in Hong Kong in 2011 rose a whopping 28 percent to 97.11 British pounds — about $150 — per square foot a year. Office space in London slowed (slowed!) to about $140 per square foot, New York's prime commercial space costs $64 per square foot, and San Francisco's rentals a measly $37.75.
The International Commerce Center, Hong Kong's tallest building, is like midtown in a 108-story box. The building is home to a Ritz-Carlton, a basement shopping mall called Elements, and the world's highest swimming pool and bar, OZONE. Morgan Stanley, Deutsche Bank, and Credit Suisse have offices a few floors below the pool.
Luxury homes aren't any cheaper. It was also recently reported that Hong Kong has the most expensive fancy housing in the world. Three-bedroom unfurnished apartments cost about $11,800 a month (and you thought Carrie's house was pricey?), but bargain-hunters should head to Karachi, Pakistan, where a three-bedroom will run you about $360 a month.