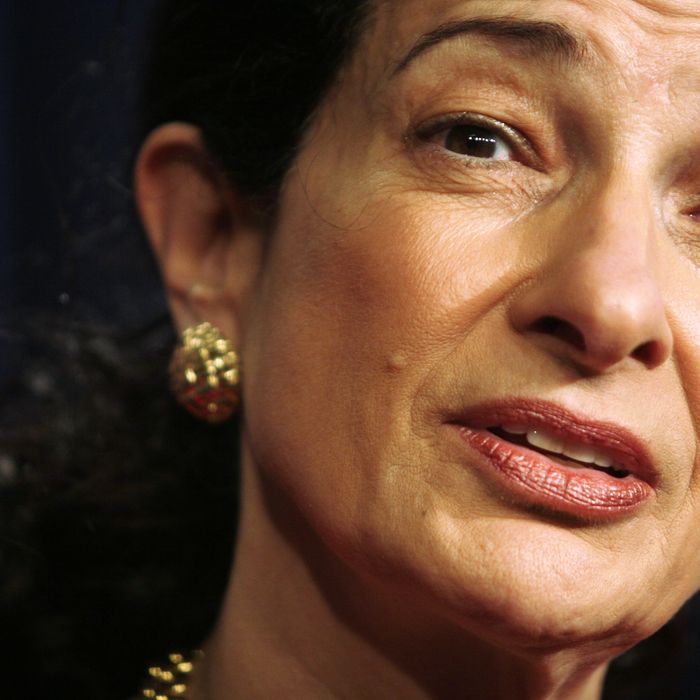 More powerful than she lets on.
Photo: Chip Somodevilla/Getty Images
The retirement of Olympia Snowe, at the young (by senatorial standards) age of 65, has again dramatized the perilous condition of the Senate moderates. They have been scorned, marginalized, and hunted close to extinction. Yet the striking fact about Snowe's career is that, far from being shunted to the sidelines, she has wielded, or been given the opportunity to wield, enormous power. She has used it, on the whole, quite badly.
When George W. Bush proposed a huge, regressive tax cut in 2001, Snowe, sitting at the heart of a decisive block of centrists, used her leverage to support the passage of a modestly smaller and less regressive version. When Barack Obama proposed a large fiscal stimulus in 2009, Snowe (citing fears of deficits that she had helped create) decided to shave a nice round $100 billion off his figure and call it a day. If a Gingrich administration proposed spending a trillion dollars to erect a 100- foot-tall solid-gold Winston Churchill statue on Mars, Snowe would no doubt decide, after careful deliberation, that the wise course was to trim the height down to 90 feet and perhaps use a cheaper bronze alloy in the base.
The characteristic Snowe episode came during the health care fight. The Obama administration, desperate to win her vote, wooed her with endless meetings and pleas, affording her a once-in-a-generation chance to not only help pass health care reform but make it smarter, more efficient, and more compassionate. Instead, Snowe tormented the administration by dangling an elusive and ever-changing criteria before their noses. She at first centered her objections around the inclusion of a public option. Democrats removed it, and she voted for the bill in the Finance Committee, only to turn against it when it reached the decisive vote on the Senate floor. Snowe complained that the process was happening too fast, and that it was too partisan, which seemed to be her way of saying she wouldn't vote for it unless other Republicans joined her.
This may sound sensible, even admirable, if you subscribe to the notion that securing bipartisan support for major bills is inherently valuable. But it's worth noting that moderates like Snowe and their fans worship bipartisanship for reasons that have nothing to do with good government. A Republican representing a blue state, or a Democrat representing a red state, faces an inherently precarious situation. Often she will find the demands of her party's national base pitted against those of her home state electorate. Olympia Snowe's worst nightmare is to have to choose between infuriating Republicans in Washington and moderate voters in Maine. Creating legislation that passes by wide margins is not done out of a desire to bring bills closer into alignment with any abstract standard of good government, but to ensure her vote sits comfortably in the middle of a wide swath of support from both sides. In a farewell op-ed in the Washington Post, Snowe complains that centrism offers no electoral rewards. For her, though, such careful positioning was a matter of political self-preservation.
The New York Times report on her departure cast the central tension of her career as pitting "her own views as a Republican centrist against pressure from fellow Republicans to support the party position." This is a common way people think about it – there are two poles, one representing the moderate's principled convictions, and the other representing party loyalty. The negation of one implies the presence of the other. Snowe's career proved that it's entirely possible to steer clear of the party line without upholding any particular notion of the public good.