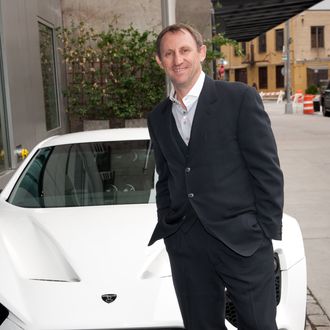 Photo: Dave Kotinsky/Dave Kotinsky
Arik Kislin, real-estate developer and Hamptons society fixture, is one of the owners of the Hotel Gansevoort, the kind of place where you wouldn't be surprised to hear that the  guy dropping thousands of dollars one table over has sketchy ties to the Russian mob. But at least according to the Post, Kislin himself has sketchy ties to the mob.
Hamptons-hopping businessman Arik Kislin was one of three people "authorized to give [financial] instructions" to a company in Liechtenstein now identified as a front for the Ismailovskaya organized-crime group, according to law-enforcement officials and court documents from three countries obtained by the Post.

It's not the first time Kislin has been linked to the Russian mob — but the documents allege a new crucial role for him in it.

According to the papers, only Kislin, Anton Malevsky — then the reputed godfather of the mob group — and Malevsky's brother Andrei exercised control over the illicit gang's front operation, called the Trenton Business Corp.
In the nineties, Kislin was the president of a commodities-trading firm that helped Malevsky get a U.S. visa, according to an FBI report. But as the Post notes, there are no charges against him; rather, his involvement has surfaced because London police want Kislin to hand over documentation that would prove his former business partner, Michael Cherney (who's wanted by Interpol for money-laundering), has mob ties.  Attention Hollywood types who might also find themselves at the Gansevoort from time to time: Whatever else comes of it, this would all make an excellent movie.