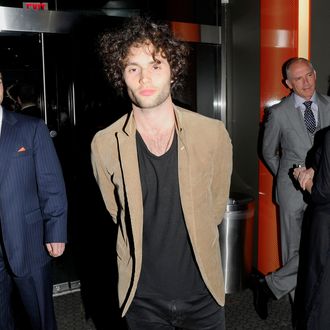 Badgley at last night's premiere.
Photo: Nicholas Hunt/?Patrick McMullan
Outspoken Occupy Wall Street supporter Penn Badgley was at The Hunger Games premiere Tuesday night as the dutiful boyfriend of Zoe Kravitz (her dad plays Cinna in the film). But as he watched, he was surprised by the movie's sociopolitical undertones — and what he saw as their connection to OWS. "It's the one percent [killing the kids]," he told us at the after-party at the Top of the Standard. "I think you'd have to be blind to not see that. I was shocked to see all that in there."
"You know what was so funny? I was asking Zoe about that while we were watching it," Badgley said. "I thought it was just going to be the games. But then I realized, and I thought, 'If this doesn't end in revolution, it's irresponsible, because of everything it's bringing up.' If Katniss doesn't become a fucking revolutionary, then I don't know what they're doing. And as it went on, I went, 'Fuck! That's what they're doing!' Which is cool."
Badgley said he hopes the film leads people to consider their "roles and responsibilities" in their own communities, given that the OWS movement is ongoing — even as Hunger Games fans line up and camp out to buy movie tickets. In Union Square, the two camps are intermingled. "I think it's interesting that if anyone camps out for anything to buy, an iPad or tickets, they're fine," the actor said. "But now you can't even stay all night in Zuccotti Park, even though it's open to the public 24 hours a day — theoretically. I think it raises an interesting point of property versus people, and there's definitely an element of that in The Hunger Games."
Could The Hunger Games portend a dark turn in our culture, as far as reality television is concerned? Could live executions one day be televised? Badgley said he doubted it, even if in a "parallel universe" it wouldn't be out of the question. "I would like to think that something like OWS and everybody's morality, everybody's consciousness would come into play and eradicate that kind of bizarre consumer culture," he said.