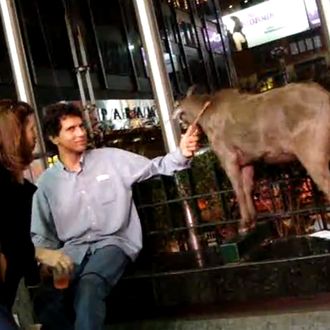 Cyrus and Cocoa "Pizza Goat" the Goat.
We don't know about you, but we couldn't sleep last night. Too excited over Pizza Goat, the mysterious goat spotted eating pizza at Famous Famiglia's late Wednesday. A goat eating pizza! In the middle of New York! We had to get to the bottom of it. And after poking around the Internet a little bit this morning, we did.
We started by searching Twitter for other recent sightings of a goats in the city, and sure enough, a few people had reported seeing a goat walking through Times Square. That led us to a YouTube video from September, of — you guessed it — a goat in Times Square. And guess who was handling that goat? The same dude who was eating pizza with him on Wednesday night. 
At 1:15 in the video, a member of Kings of Leon approaches Goat Man and Pizza Goat and asks for their names, which turn out to be Cyrus (the man) and Cocoa (the goat). Finally, we had uncovered the mystery of Pizza Goat and Goat Man, apparently a well-known pair in Summit, New Jersey. As the Newark Star-Ledger reported on April 23, 2010:
On a recent evening stroll through town, Cocoa and her owner, Cyrus Fakroddin, hopped out of a minivan parked in a municipal lot on Maple Street. They turned the corner past Roots Steakhouse, where a 16-ounce veal chop costs $33. A dozen men in dress shirts sitting near the window craned their necks as Cocoa stretched over a short fence to nibble at some tulips

"She's a little celebrity," said Vito Celii, owner of owner of Summit Brick Oven Pizza, who often comes outside to give her a snack.
Pizza again! The story continues:
Cocoa is the fourth goat Fakroddin, 48, has owned since moving to Summit in 2005. Originally from Springfield, Ill., he works as a reproductive toxicologist for a pharmaceutical company and lives alone in a rambling 18th-century house along the Passaic River near the Chatham and New Providence borders.

Their walks are meant as exercise for both goat and owner, but "I don't get too far," said Fakroddin. "She's a show-stopper."
Sometimes literally. Cyrus and Cocoa made an appearance on Good Morning America in 2010:
"Good Morning America" weather anchor Sam Champion tweeted the photo on the left of a goat amidst the crowd outside ABC's Times Square studio. Robin Roberts said that the crew is pretty sure this is the first goat to appear in the "GMA" audience.
Cocoa has also been to Madison Square Garden, where she was considered a national security threat, as Summit Patch reported in September:
Two uniformed police officers came up to Cyrus and asked him to leave. When he questioned why, the officers said, "there are a lot of security cameras around here. The people behind the cameras are paying attention to Cocoa instead of doing their job."
It's not clear how often Cyrus and Cocoa journey into Manhattan, or what they do when they get here. We've reached out to Cyrus to find out. We will stay on top of this breaking story. That's a promise.