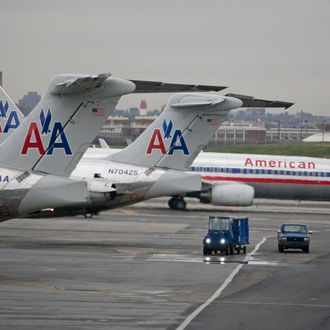 Photo: Scott Eells/Bloomberg via Getty Images
Let's face it: We've all quietly lowered a tray-table, reclined a seat-back, or turned on a cell phone while the flight attendant was looking the other way. According to the Port Authority, passengers who refuse to turn off their electronic devices were responsible for mass delays and 400 police reports last year at JFK, LaGuardia, and Newark airports.
The agency's solution? Hit intransigent texters with big fines.
According to the Daily News, the Port Authority plans to levy fines — perhaps in the tens of thousands of dollars — on future Alec Baldwins whose refusal to turn off a phone or tablet results in a flight delay. The airlines would be reimbursed. Said the agency's executive director, Pat Foye, "We think that with the economic costs of delays and with the passenger inconvenience and the effect on our airports' ability to serve 100 million passengers a year, it's the right thing to do."
Though the Port Authority is taking a tough stand, it's not clear that the agency even has the power to do this — apparently, they only regulate the airports, while the FBI and FAA are responsible for what actually happens inside airplanes. And the Port Authority might even try a harsher tactic to get you to turn off your Words With Friends: lawsuits.
"The Port Authority legal department has been looking at options we have for bringing civil litigation, and we're prepared to bring that," said Foye. "We wanted to put people on notice that that is a potential remedy."
Air travel: the gift that keeps on giving.