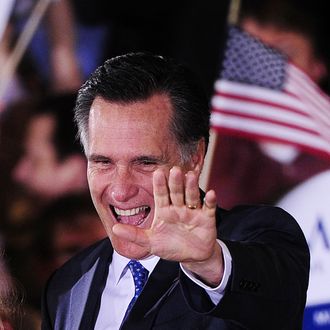 Romney celebrates a mediocre night.
Photo: EMMANUEL DUNAND/2012 AFP
In terms of what is actually, tangibly at stake in the primary race — you know, accruing delegates, who will go to the convention in August and vote on the party's nominee — Mitt Romney was the clear winner of Super Tuesday. The final tally as of 5:55 am on Wednesday: 415 delegates for Romney, 176 for Santorum, 105 for Gingrich, and 47 for Paul. Nobody really expects Romney to fall behind in the delegate count at any point in the campaign, especially with the fund-raising and organizational advantages he possesses over his rivals. 
And yet, while Romney's performance on Super Tuesday was good enough to maintain his place as the race's front-runner, it was also bad enough to encourage Rick Santorum to remain in the race for who knows how long. Because Romney's victories were only superficially impressive — where he won resoundingly, he should have won resoundingly: Massachusetts (his home state), Virginia (where only he and Ron Paul made the ballot), Vermont (hippies), and Idaho (Mormons). But in the key swing state of Ohio, he barely eked out a victory against Santorum (he was up by only one percent with 96 percent reporting) despite outspending him there nearly five to one. He lost to Santorum in Oklahoma, Tennessee, and North Dakota, three states where Santorum's only advantage is that Middle America, well, likes him more. 
All in all, the narrative didn't change much tonight, and the race isn't any closer to ending. It's just going to keep going, for weeks or months, primary to primary. Ultimately, Super Tuesday benefited the political media (which needs something to write about) and President Obama (who avoids a unified GOP attack for a while longer) more than any of the Republicans running for president.