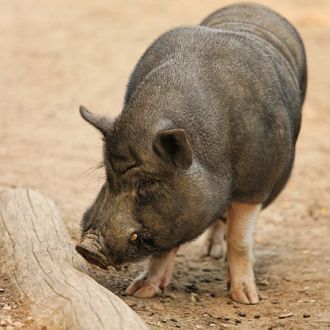 A generic potbelly pig. Franklin is much cooler-looking. Obviously.
Photo: iStockphoto
Crest Hardware's Franklin the Potbelly Pig is, as City Room notes in a mini-profile this morning, beloved by many of the ladies of North Brooklyn. "I'm obsessed with Franklin," 36-year-old neighborhood resident Rachel Harrison told the Times. "He has caused me to purchase way more bark mulch and pots. I'm popping in even when I don't need anything, just to visit Franklin, and I'll leave with four new flowers to plant in my backyard."  Having met Franklin ourselves, we can attest to his animal magnetism. And yet, as we kept reading, we began to wonder if it wasn't just the cuteness factor that draws women to Franklin. Could it be possible that … Franklin reminds the women of Williamsburg of the kind of men they love to date? Consider:
A)  A "mix of miniature pot-belly and Juliana, a breed developed in Europe," he is skinnier than the pigs they might have met back home, and a little more sophisticated, or at least he purports to be.
B) He "grunts, hums, sighs and oofs." Indeed.
C) He "was quick to learn acceptable bathroom habits." (Note: This is not true of all boyfriends, Williamsburg-based or otherwise.)
D) He's kind of over, like, the whole social scene. "Franklin shows scant interest in new visitors unless he smells food. 'He used to be more curious,' Ms. Harrison observed, 'but now he's so used to the attention, he's like, 'Meh.''"
E) He's a snob, and fairly chilly IRL. "Franklin, who is neutered, has no pig friends (except on Facebook) and prefers the company of dogs that look like him. 'Pugs or French bulldogs are usually the only ones where he'll even remotely acknowledge their existence.'"
F) He claims to be too cool to care about clothes, "equally happy in a Giants T-shirt, a red hoodie or a dapper baseball cap," but he has an awful lot of them for someone who doesn't care.
G) He likes some mainstream culture — Modern Family — but has a whole explanation for why. "Franklin appreciates the unconventional aspect of it." Of course he does.
H) He has really weird facial hair.
I) He scolds you for capitalizing tUnE-yArDs wrong in a Gchat.
Okay, that last one wasn't true. But it could be.