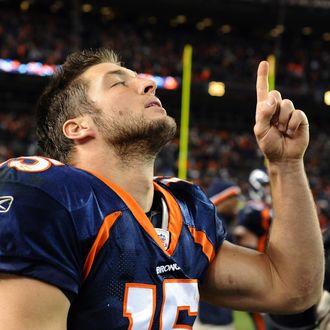 This is how no one in New York feels about Tebow.
Photo: Garrett Ellwood/Getty Images
It's official: Tim Tebow is coming to New York. After his trade from the Denver Broncos was announced this morning, the deal hit a snag when the Jets forgot to the read the fine print on Tebow's contract. The contract called for the Jets to send over $5 million back to the Broncos and things got complicated. The Jacksonville Jaguars briefly rallied to bring Tebow back to his hometown, but it was too late, and the deal was officially done at 9 p.m.
When former Jet Kris Jenkins heard about the trade, his reaction was visceral: "I threw up in my mouth." And so the Jets continue to be laughed at by everyone, everywhere, forever.