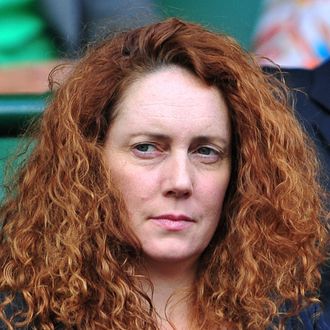 Photo: LEON NEAL/2011 AFP
Rebekah Brooks, the former editor of News of the World, was one of six arrested in a new round of hacking scandal detentions in the U.K today. It's a piece of déjà vu — Brooks was taken into custody last July — but this time, her horse-breeder husband Charlie is reportedly also among those detained. Horses have galloped into the hacking scandal recently: Last month, prime minister David Cameron "was forced to admit" that he'd ridden a horse the police had lent the couple.* It was a mini-scandal the press called "Horsegate,"  and cast the prime minister's friendship with Brooks in a certain light he found unflattering.  But perhaps Charlie's implication in the case has more to do with the strange incident last summer, when he unsuccessfully tried to recover from a security guard a laptop, paperwork, and phone that were found in a bin outside the couple's home and later passed on to the police. At the time, he claimed they were his and not his wife's, and so had nothing to do with the unfolding scandal.  Still, as of yet, it remains unclear what prompted this latest round of arrests.
* This post originally confused the giver with the recipient of the horse.